Dogs are inquisitive, and you must not be surprised if your pooch often keeps the window occupied to see what is going on outside your premises. It is completely normal, and you may better cater to this need of his by either making or buying him a perfect dog window perch so that they can perch up high and keep watch in a relaxed and cozy way.
In this blog, we will discuss the DIY dog perch ideas for you to use and engineer a cool window perch for your dog. And if doing it yourself does not sound like your thing, worry not; we have also listed some of the best dog window perches available on the market. Let us go!
DIY Dog Window Perch Designs
You can make a perfect spot for your furry friend to sit and enjoy the view outside from the window in four ways discussed below. It does not matter if you are a beginner or an advanced artisan; the designs are inspiring and presented with straightforward directions for canines.
All you need to build a cool DIY window perch for your dog is a bit of enthusiasm.
1. Bench Type
It is a simple bench or stand that you can make and place some kind of soft material on it. Once made, you can place this "bench" near the window. It will be comfortable and easy to climb for your dog to reach the window. All you need is some wood, foam, and fabric. Here are the steps to make one:
Cut the wooden pieces into the desired size and shape.
Stick the pieces together through drilling to complete the bench.
Cut the foam and fabric into the desired size and shape.
Place the foam into the fabric.
Place the pillow thus formed atop the bench.
Place the perch near the window.
Tip!

It is advisable to go for the stain-proof fabric because it is easy to clean
If you already have a table for common use in your home, you can put a cushion or pillow over it and place it near a window. It would be a great makeshift dog window perch.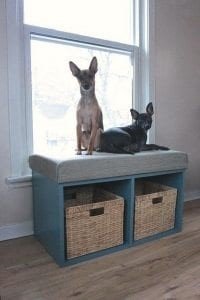 2. Deluxe Type
It is similar to the bench type, except that it has stairs for your glorious furry king to climb to his majesty's window perch with utmost ease! Deluxe-type design is especially useful for aging pooches who have difficulty climbing. With the same material as discussed previously, here is the way to make this DIY dog window perch with steps:
Complete the bench-type perch as per previous instructions.
Cut additional wooden pieces to make the stair and stick them together. Go for at least three steps, but ensure they are separated by equal height.
Place pillows on each step to make it comfortable.
3. Kennel Type
The kennel-type design is, again, similar to the bench type but with a lodging spot at the bottom. It is useful if your dog gets tired of the sun often and tends to take a rest in the shade before viewing the window again.
The material and procedure required to make this type of dog window perch are similar to what is discussed in the bench type. However, make sure to leave a hole in the bottom part to let your dog enter and leave easily. Also, place a pillow in the bottom part as well.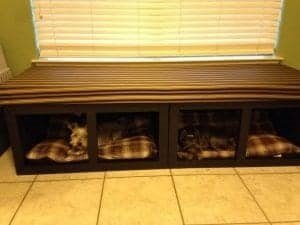 4. Sofa Type
It is an elongated type of dog window perch with a wide seat over the top and four small legs at the bottom to elevate it from the floor. As obvious, it is pretty simple to design if you have the required tools. Watch the below video for a step-by-step guide to making this sofa-type window perch for your dog.
Dog Window Perch Products
DIY designs are great when it comes to the degree of customization they offer; however, If you cannot make a perfect window perch for your dog on your own, do not worry! Here are the top eight products that can effectively replicate all DIY dog window perch designs to find the perfect fit for your canine buddy.
Here we go:
Dimension: 44 X 20 X 29 inches
Weight: 27 pounds
Frame Material: Wood
Bedding Material: Foam-type
Maximum Pet Weight: 60 pounds
Penn-Plax Multi-Level Bed and Step System includes a simple stair design with bedding at the top and an open compartment at the bottom. Just place it near the window, and your dog will climb at the perch himself whenever he feels like it. If not, he can rest in the bottom compartment.
Contains removable carpets and bedding on each step

Can adjust two pets at the same time, given their combined weight is less than 60lbs

Has barriers along one side of the perch which do not allow your pet to fall

With an espresso finish and cream-coated design, it blends with the home design
Made up of combustible material

Too large for small windows
Dimension: 25 X 32 X 7 inches
Weight: 10 pounds
Frame Material: Polyester
Bedding Material: Polyester
Maximum Pet Weight: 200 pounds
K&H Dog Bed has a simple movable type design. It is ideal if you have a low-elevated window and a large dog breed. The product is seven inches in height and has the top portion made of perforated material, which allows the air to pass, keeping your pet cool during summer.
Heavy-duty: can hold pooches weighing up to 200 pounds

Features super-comfortable bolsters with a waterproof covering

Feet are made of anti-scratch rubber

Fabric repels moisture, bacteria, and molds

Canopies can be added to the top
Not chew-resistant

Canopies do not come with the package
Dimension: 11 X 15.5 X 18 inches
Weight: 16 pounds
Frame Material: Wood
Bedding Material: Cloth
Maximum Pet Weight: 200 pounds
Premier Pet Steps Stairs allow your dog to easily access windows, beds, and sofas when placed in front of them. Having a simple and accommodable design, the item fits perfectly in pretty much any type of house. A cool carpet at the top makes it comfortable for your furry friend to stay longer on it longer and enjoy the view outside the window.
Comes in three colors: early American, cherry, and walnut

Can accommodate large pets

Easy to clean – rub it with a damp cloth, and that is it!

Sturdy wood – can hold up to 200 pounds
Does not break down into small assembly units, compromising the ease of carriage
Dimension: 15 X 15 X 15 inches
Weight: 6.7 pounds
Frame Material: Wood
Bedding Material: Polyester and microfiber
Maximum Pet Weight: 15 pounds
Lodge two teacup dogs in a single pet house at a time with Pet Adobe Ottoman Pet House. Adjust the product alongside the window and let one of your pooches climb 15 inches to easily sit on the top made of sisal material and enjoy the great view outside. It has a perfect and comfortable space inside, wherein your other dog can wait until his turn to take the window seat comes!
Comes in tan and black color

Collapsible for easy storage

Has comfortable and cozy padding

Made for stability and support
Only for small dog breeds
Dimension: 22 X 17 X 9.8 inches
Weight: 11 pounds
Frame Material: Wood
Bedding Material: Foam and cloth
Maximum Pet Weight: 200 pounds
Furhaven offers about 10 inches high modern-design bed for your canine friend. The best part: it is very light in weight but can carry even the largest dogs. Place the bed near the window, and it will act as a perfect window perch for your pet.
Comes in classy walnut color

Modern design, complementing indoor items at home

Easy to pick and place

Removable and washable bedding material
Dimension: 28 X 20 X 12 inches
Weight: 17 pounds
Frame Material: Wood and leather
Bedding Material: Faux leather and polyester
Maximum Pet Weight: 30 pounds
Let your canine friend lounge beside the window in luxury and style! It is a handmade deluxe perch with graceful leather material upholstered on it. It can also be used as a comfortable sofa for your dog. It is easy to clean and makes a perfect choice for your pooch to perch on and look outside the window.
Removable and washable cushion

Available in chocolate and charcoal colors

Has comfortable arms and headrests

Shipped in a strong box to avoid damages during transport
Appears to be too large for small windows
Dimension: 24 X 24 X 13.5 inches
Weight: 3 pounds
Frame Material: Plastic
Bedding Material: Polyester
Maximum Pet Weight: 35 pounds
K&H Cozy Cot is a foldable and elevated dog bed that can work as a dog window perch. Unlike most bed-type perches, this product is foldable and hence easy to carry. In addition, its special design allows air to circulate around the sitting dog, keeping him cool during the summertime. Coming in classic gray, the cot fits against almost any wall color. Fold and pack it when taking your dog camping and it will become a comfy dog camping chair; place it next to a window, and it will work as a dog window perch.
Unique saucer design

Removable and machine washable cover

Collapsible and easy to carry during travel
The cloth is smaller than the netting, making the colt vulnerable to breaking if extra weight is put on it

It is not waterproof
Having finalized a window perch for your dog, you may want to take a look at cat window perches if you have a dog and cat living together under your roof.