Everyone knows that Taylor Swift loves music. But if you are a true Tay-Tay fan, you'll know that there is something she loves more than music. Cats! Yes, cats. Taylor Swift cats are closer to her heart than music.
In her Time's interview in 2019, she named three things that influence her the most, cats being at the top. The other two were Tumblr and Paul McCartney.
If you have been casually following Taylor Swift on social media platforms like Instagram, you will have an idea how much she loves her cats. She frequently shares her cat experiences with the world on Instagram. While explaining her love for cats and her decision to sign up for the role of Bombalurina in the movie named Cats, she said: "I have cats. I'm obsessed with them. I love my cats so much that when a role came up in a movie called Cats, I just thought, like, I gotta do this."
If you are fond of cats just like Taylor Swift, you must be curious to know how many cats does Taylor Swift has. What kind of cats does Taylor Swift have? And what breeds are Taylor Swift cats?
How Does Taylor Swift Name Her Cats?
Do you know that Taylor Swift has named her pets after the name of her favorite characters from her favorite TV shows? The oldest of her cats is named after a character featured in Grey's Anatomy. The Middle one is named after a character from Law and Order: SUV. And the youngest one is named after a character from The Curious Case of Benjamin Button.
How Many Cats Does Taylor Swift Have?
Taylor Swift has three cats. Meredith grey, the oldest one; Olivia Benson, the middle one; and, Benjamin Button, the youngest and most recent addition to her pet club.
Let's discuss them one by one.
Meredith Grey
Meredith Grey is a Scottish Fold cat named after Meredith Grey, a character from Grey's Anatomy. She is Swift's oldest cat. Meredith came into Taylor's life on October 31, 2011, when Swift was only 21 years old. Swift has often called her the best cat in the world. Meredith is Swift's best traveling companion and is usually seen traveling with her.
Fans love Meredith. Some months ago, when she wasn't seen much, fans thought if she has gone missing. Many asked her to update on Meredith's status. To dispel the rumors, Swift made a video to let her fans know that Meredith is okay, but just does not like to get "cameras shoved in her face." "She is still just a little private cat. She likes her business kept to herself," Swift explained.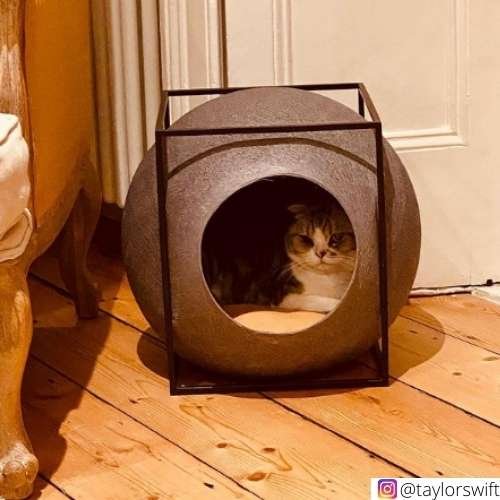 Olivia Benson
In June 2014, Taylor got Meredith a younger sister and named her Olivia Benson, after the character of Olivia Benson from Law and Order: SUV. Olivia Benson is also Scottish Fold. She is anything but camera shy and is often seen on Tay-Tay's social media. She is known for sitting on her back and show the world her belly. Olivia is featured in one of Taylor's Diet Coke commercials. She can also be seen sitting on a couch with Meredith in the music video of "ME!"
Benjamin Button
Benjamin Button is a Ragdoll cat and is the most recent addition to the Taylor Swift Cats collection. He is very playful and loves belly rubs. He is named after a character, played by Brad Pitt, from The Curious Case of Benjamin Button.
He was first seen in the music video of Taylor Swift's single "ME!" In the video, Brendon Urie is seen handing over the kitten to Swift. After the release of the music video, Taylor told her fans that she fell in love with the purring of Benjamin on the set of the music video.
Later on, she also released a video, "ME! Behind The Scenes: The Story of Benjamin Button," where one can see how she fell in love with Benjamin Button. You can also see her joking about giving birth to Benjamin Button.
Fun Fact: Did you know that all three of the Taylor Swift cats Meredith Grey, Olivia Benson, and Benjamin Button are featured in the music video of ME?
Should You Buy a Scottish Fold Cat?
After finding out that your favorite singer has two Scottish Fold cats, you may be giving thoughts to getting a Scottish Fold. Well, you can get one. But before you do that, you should know that due to their genetic makeup, they are at a huge risk of developing serious health issues. This is why Governing Council of the Cat Fancy (GCCF) has banned the Scottish Fold Breed since 1970.
But if you are residing in the United States, you can get a Scottish Fold. In fact, this is one of the most popular cat breeds in the US and Japan. You can keep a Scottish Fold as a pet but you will have to provide extra care to the fluff balls. And one more thing: Vets strongly advise not to breed them with another Scottish Fold cat.