Dutch has an extensive history of horse breeding. It is widely believed that they started breeding horses as early as the 4th century. Dutch horses are majestic animals that are among the most beautiful horses of the equine world. These horses are also used in equine sports and are loved worldwide for their beauty and unique characteristics.
Dutch Horse Breeds
Dutch have been breeding horses since the 4th century. They had developed scores of unique horse breeds working on their farms and used for transport. Known for their extreme strength and endurance, Dutch horses were in demand all across the world earlier.
However, with the advent of the industrial revolution as machines replaced horses on the farms, the demand for Dutch horses diminished. Eventually, many of the Dutch horse breeds vanished from the face of the earth. Today there are only seven Dutch horse breeds in the world.
1. Dutch Harness Horse
Dutch Harness horse is a warmblood horse that evolved in the Netherlands since the end of the Second World War. It is a mixture of Groningen and Gelderland horses.
Dutch Harness is also used in special fine harness competitions and excels in other equine competitions, such as show jumping, dressing, carriage driving. Harness Horse is energetic, even-tempered, and willing to work. The best characteristic of the Dutch Harness horse is that it is multi-talented, resilient, and sporty.
Interesting Facts

Dutch Harness horse is unique from others due to its uncompromising shoeing rules for competition as no pads are allowed, and the shoes must stay of certain width and thickness.
It is one of the fastest horse breeds with an impressive speed of 8 to 9 mph.
Height: 15 to 16.2 hands
Weight: 1050 pounds
Life span: 24 to 29 years
Color: Black, chestnut, brown, and bay.
Speed: 8 – 9 mph
Origin: Netherlands
Behavior: Good-tempered, energetic, and obedient
2. Gelderlander Horse
Gelderlander is a Dutch breed of warmblood horse. It was bred in Netherland as a carriage horse, also capable of farm work. It is an endangered breed as its population started declining in the mid of twentieth century. They are great at pulling carriages. Because of their athleticism, they do pretty well in different equine competitions like dressage and show jumping at the international level.
Interesting Fact:

Gelderlander is an all-rounder horse used for agriculture as well as for sports.
Height: 15 to 16.2 hands
Weight: 600kg
Color: Chestnut and gray
Origin: Netherlands
Behavior: Graceful, versatile, and stylish
3. Dutch Draft Horse
Also known as Netherlands Trekpaard, the Dutch Draft horse is a heavy draft horse breed from Netherland. This colossal horse breed was developed by using Belgian draft horses, Ardennes, and Zeeland, after the end of the First World War to help with heavy work on the farms.
They were greatly affected by the industrialization that swept Europe in the interwar period. However, their quiet disposition and calm temperament make them a great dressage horse breed. Standing tall at around 16hh and weighing up to 1,650 pounds, the Dutch Draft horse is one of the biggest horse breeds.
Interesting Fact:

Draft Horses are the largest and tallest horses in the world, and many draft horses have feathers on their legs.
Height: 15.2 to 16 hands
Color: Bay, gray, black, chestnut.
Origin: Netherlands
Behavior: Calm, friendly, docile
4. Groningen Horse
Hailing from the Groningen province of Netherlands, Groningen is a heavy Dutch warmblood horse breed. They were developed by crossing East Friesian with Oldenburg, and probably there were some other horse breeds involved as well.
The Groningen horses have a calm disposition, excellent stamina, and charming movements. Because of these reasons, they were used in the development of the Dutch Warmblood horse breed.
As all the efforts were directed towards developing the Dutch Warmblood horse breed, the Groningen horse population declined significantly and came near extinction, due to which some of the remaining stallions and mare were preserved. Because of these efforts, you can still find these magnificent beauties.
Interesting Fact:

Groningen horse is the breed of Dutch horse with great beauty and intricate movements. They are easy to train and have excellent stamina.
Origin: Netherlands
Height: 15.3 to 16.1 hands
Color: black.
Behavior: Calm, willing, submissive, adaptive
5. Friesian Horse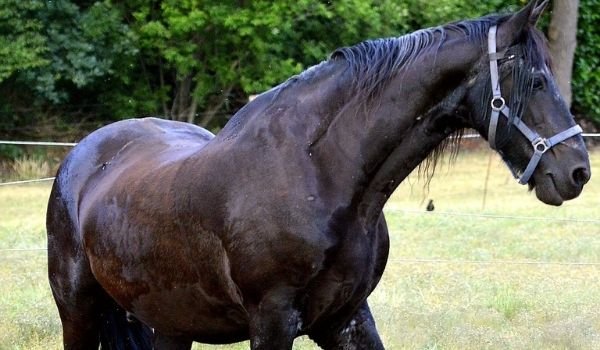 The Friesian horse is also a Dutch horse breed, which originated in Friesland and is also known as black pearls of Friesland. They are one of the oldest horse breeds, with their history dating back to 15 A.D. The Friesian horses are graceful and agile. They are hardworking and love being busy.
Friesian horses are all-rounders and were quite popular in the 18th and 19th centuries. They not only made great harness horses but also aced the trotter's races. Besides, they were also effective on farms. They are still recovering from nearly going extinct a century ago.
The Friesian horse has become popular for recreational purposes. Today, they are widely used in dressage and circus. Because of their attractive colors and graceful appearance, they often appear in movies and historical dramas.
Why Friesian Horses Are So Expensive?
Friesian is one of the most expensive horse breeds of the equine world, with their price ranging from $3,000 to $30,000. Depending on the training, age, health, coat color, and many other factors, a Friesian horse may even fetch up to a six-figure price.
Interesting Fact

The Friesian horse has short limbs but is strong and known for a brisk, high-high stepping trot. It is also famous for its elegant appearance.
Origin: Netherlands
Height: 1300 pounds
Color: black.
Behavior: Mischievous, loving, and playful
6. The Dutch Warmblood Horse
The Dutch Warmblood horse is a graceful and athletic breed. It was developed in the Netherlands after the First World War by crossing Gelderlander and Groningen horses and possibly many other horse breeds. They excel in all kinds of equestrian games.
This refined horse breed has all the desirable characteristics—great stamina, agility, calm disposition, agile, and sporty. Besides all these desirable characteristics, they are also known as one of the most beautiful horse breeds.
Are Dutch Warmblood Good Horses?
Yes, the Dutch Warmblood is an excellent horse as it is multi-talented and versatile. It is one of the healthiest workhorse breeds with great speed and acceleration. Dutch warmblood horse has an outstanding temperament and is very willing to do all it is asked of.
Interesting Fact:

The Dutch Warmblood horse is a young breed created in the 1900s in the Netherlands, and it is the most successful of competition breeds.
Origin: Netherlands
Height: 16 hands to 17 hands
Weight: 1430 pounds
Color: Black, bay, brown, gray, chestnut.
Behavior: Intelligent, easy-going, and even-tempered
Dutch horses are in huge demand all over the world for their supreme attributes and unique characteristics. From agricultural work to equestrian competitions, they excel in all avenues.
Now that you have familiarized yourself with the Dutch horse breeds, you may want to take a look at the small and stocky Scottish horse breeds.