The name "Lovebird" came because of their inseparable monogamous bond with their partners. They are also called "Pocket Parrots" as they are so tiny that you can take them with you everywhere in your pocket. It would not be wrong if we say, Lovebirds are an energy bomb. The reason for being extremely popular in bird pets is their active and playful nature, their effortless maintenance, and the colors they bring into their owner's life.
Origin
Lovebirds are native to African islands and Madagascar. They belong to the genus of Agapornis and order Psittaciformes, generally preferring to live in small flocks. In the wild, their diet is mainly comprised of seeds, berries, and fruits. They are recognized as pests because sometimes they attack in large flocks to eat farmers' crops.
Types of Lovebirds
There are 9 species of Lovebirds distinguished based on the color of their feathers. Not all nine species are kept as pets.
Let's discuss each species in detail!
1. Rosy-Faced or Peach-Faced Lovebird (Agapornis roseicollis)
Rosy-faced or peach-faced Lovebird is one of the most common and popular lovebird species to be kept as pets. Due to its popularity among breeders, there are countless varieties of these colorful birds. They are easy to tame but can be aggressive sometimes, especially with other pets or birds.
Appearance
Adult Lovebirds have rosy pink or peach faces and throats; however, young birds have pale pink faces and throats. The part above their eyes and forehead is colored reddish-brown or dark orange. They have dark green plumage, fading into a black rump. They usually have dark brown or black eyes and a small horn-colored beak.
Habitat Requirements
Rosy-faced Lovebirds are native to the deserts of southwestern Africa. They can survive in various habitats, including forests, woods, mountains, semi-deserts, and areas near the rivers.
Diet
Their diet includes seeds, green and dry leaves, dry leaf stems, plant fruits, and cattle and horse dung; they also ingested soil. Since they are prone to nutritional disorders, make sure that they're given food high in nutrients.
Size
The rosy-faced Lovebirds are quite small in size. They can reach 5 to 7 inches from head to the tail tip with an average wing length of 106 mm and a tail length of 44 – 52 mm. They only weigh from 1.2 up to 2 ounces.
2. Black-Masked or Yellow-Collared Lovebirds (Agapornis personata)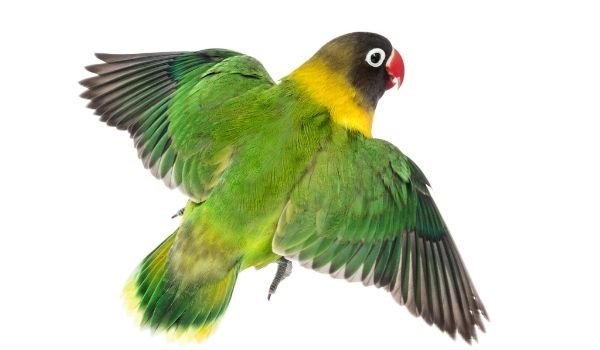 Black-masked or Yellow-collared Lovebirds are also commonly kept as pets as they are highly social and require plenty of human contacts or a lifelong mate for companionship. They are less aggressive than rosy-faced Lovebirds, making them easy to be taken care of.
Appearance
This type of Lovebird has two names because there is a doubt about which of their features is more prominent? The black masking on their face or the bright yellow collar underneath?
Their head is black, which gives them a masked appearance. The white ring encircles black or deep brown eyes with a bright red beak, making the masked feature more notable. They are bright yellow from neck to tail, fading quickly into a green color. Sometimes their tail and wings show blue accents.
Habitat Requirements
They are native to Tanzania only, but their subspecies can now be found in Kenya and Burundi. They usually prefer dry regions with sparse growth close to brushwood and trees.
Diet
Seeds are their natural diet, so they should be an integral part of their staple diet, but fruits and veggies should be offered to them occasionally. That said, you should not ignore minerals—they are also a part of their balanced diet.
Size
Males are slightly larger than females. But they still weigh less than 2 ounces and a maximum of 2.3 inches in length.
3. Fischer's Lovebirds (Agapornis fischeri)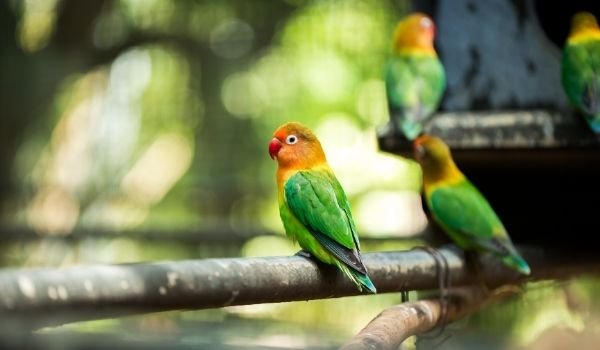 They have outwitted all other Lovebirds because of their bright and varied plumage colors. Despite being so playful, they're quieter than other species.
Appearances
They are brown and orange from the top of their head that fades into golden yellow on their neck. They have bright green-blue plumage with slight color changes across the chest, wings, and back. They have white rings around their eyes and dark orange beaks.
Habitat Requirements
They live in a small African area along with Lake Victoria in Tanzania. In drought years, they move to Burundi and Rwanda to find moisture. They live in isolated clumps of trees with grass plains between them.
Diet
For a healthy, balanced diet, it is necessary to provide a variety of foods for your pet bird. Pellet foods and seed mixes can be fed as a daily base diet.
Size
They are 2 – 5 inches long from head to tail and just 1.5 – 2 ounces in weight.
4. Nyasa or Lilian's Lovebirds (Agapornis Lilianae)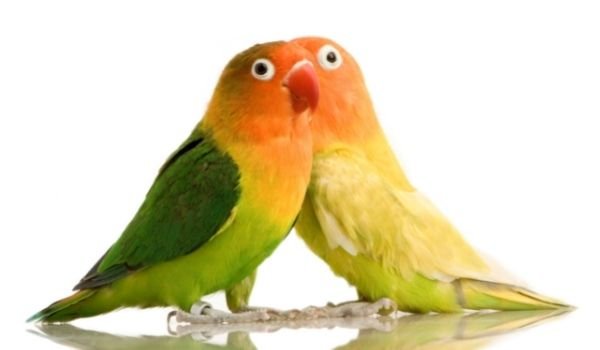 Lilian's Lovebirds are rare species of Lovebirds and are considered endangered and are currently listed as Near Threatened by the Internation Union for Conservation of Nature and Natural Resources (2018). They are mostly bred in captivity because it is difficult to breed them.
Appearances
The Lillian's Lovebirds have yellow and red faces that fade into orange and then yellow when it reaches the chest. They have green plumage with blue tints on the wings. White rings surround their black eyes, and the bright orange color highlights their beaks.
Habitat requirements
Natively, they come from Mozambique, Zambia, and Zimbabwe. It is now found in Leonard National Park (LNP), Pennsylvania, and numerous cluster groups may be found in the adjacent woodlands outside of the park.
Diet
Lillian's Lovebirds eat grass seeds, wild rice, millet, flowers, and other seed and fruits.
Size
Nyasa is the smallest Lovebird in mainland Africa. The biggest Nyasa can be 5.4 inches long. On average, they weigh around 1 – 1.3 ounces.
5. Black-Cheeked Lovebirds (Agapornis nigrigenis)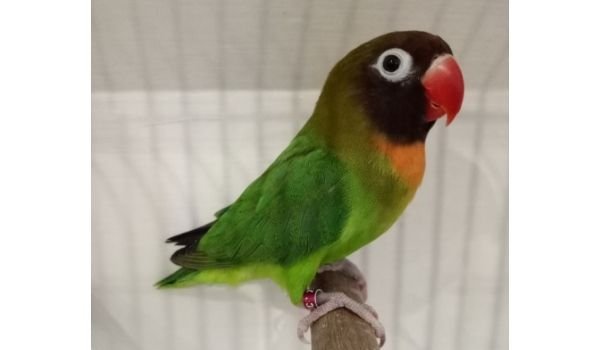 Black-cheeked Lovebirds are vulnerable to habitat loss, falling amongst the endangered species. They were first considered a subspecies of Nyasa Lovebirds but then identified as separate species.
Appearances
Don't confuse them with Masked Lovebirds. They have black cheeks, as their name suggests. Dark green plumage covers their body and lime green from undersides that fade into a light brown on their chest and then into an orange. With a bright red beak, their eyes are surrounded by white circles.
Habitat Requirements
These birds tend to settle in deciduous woodland because of their continuous supply of water, as they require plenty of water every day. They are mostly found in Zambia, Zimbabwe, Botswana, and Namibia.
Diet
These Black-cheeked Lovebirds are known to primarily feed on grass seeds, vegetable matter, sorghum, millet, and corn and are also known to feed on insect larvae sometimes.
Size
They're roughly 5.5 inches in length and weigh around 1.3 ounces.
6. Black-Winged or Abyssinian Lovebird (Agapornis taranta)
Native to Ethiopia, these Lovebirds are very uncommon and almost impossible to find. Though they are gaining some popularity over time but not enough yet. Abyssinian Lovebirds prefer to live in packs of 4 to 20 birds.
Appearances
As for the appearances, Abyssinians are unique from other Lovebirds. They have vibrant shades of green plumage all over their body with red faces and red beaks. What makes them unique is the black underwings, and also, there are no white rings around their eyes like most Lovebirds have.
Habitat requirements
They are found in the mountainous regions of Ethiopia, whose old name is Abyssinia, where they nest in tree cavities. They can be seen flying across the hilly regions, typically in high plains regions with 6,000 – 10,000 ft. above sea level.
Diet
They can be seen eating fruits, sunflower seeds, figs, and even small insects like bees and termites.
Size
They measure 6 – 7 inches in length with an average weight of 1.7 ounces. This means they are bigger than other species.
7. Madagascar or Grey-Headed Lovebirds (Agapornis Cana)
Grey-headed Lovebirds are the smallest of Lovebirds. They are found on the island of Madagascar and are the only lovebird species that are not native to the mainland African continent.
Appearances
Their males have light grey to white-colored heads and green wings and plumage. However, females are mostly all over green with darker shades on wings and back.
Habitat Requirements
Madagascar Lovebirds live within a rainforest environment since they need plenty of water to survive. They also can wooded savannahs, forest edges, and scrubs. Like other Lovebirds, they prefer to live in flocks—but less than 10.
Diet
Their main diet includes canary seeds, vegetables, and fruits. They also like oats, millets, green leaves, and chickweed.
Size
They are the smallest of all Lovebirds, having a height of less than 5 inches. On average, they weigh between 1 – 1.25 ounces.
8. Red-Faced Lovebirds (Agapornis pullaria)
Red-faced Lovebirds are native to mainland Africa found throughout the continent. The expanse of their territory range from Sierra Leone to Lake Alberta in Uganda. Because of their distinctive appearance, many attempts were made to breed them in captivity, which failed. They are active and playful, usually living in colonies of up to 30 birds.
Appearances
Green plumage covers their body, tail, and neck. Males have red heads, but females are peachy-orange-faced with red beaks.
Habitat Requirements
They are native to African tropical rainforests and forest edges. They are also found in high forests—but on rare occasions.
Diet
Their food includes grass seeds, a variety of fruits, and some cultivated crops.
Size
In their mature age, they reach up to 6 inches in length and 1.5 ounces in weight.
9. Black-Collared or Swindern's Lovebird
Finally, we have Black-collared Lovebirds. They're are also rare and unknown in Europe and the Americas, as they can't be kept in captivity because of their dietary requirement of native figs. Being shy, they are hard to find.
Appearances
They are mainly green from top to bottom with a grey beak and brownish-red chest, but the black band on the back of their neck sets them apart from other Lovebirds.
Habitat Requirements
Equatorial Africa is their domestic home but can be found in several countries, such as the Republic of Congo, Cameroon, Côte d'Ivoire, Equatorial Guinea, Gabon, Ghana, Central African Republic, Uganda, and Libera. They are mostly found in the upper parts of the forest canopy among fir trees.
Diet
They feed on the upper forest stages of ficus trees. Their diet mostly comprises native figs, millets, and insects.
Size
They are approx. 5 inches long and weighing around 1.4 ounces.