What's up pup parent? Do you wonder how to bathe a puppy the right way?
Did your puppy get muddy, sweaty, and smells different?
If so, it's time to get it under the shower and do some cleaning.
But if you are a new puppy parent, you might be wondering about how to bathe your puppy?
Don't worry, we have you covered! Bathing a puppy is easy as well as fun if done the right way. This brief guide illustrates bathing a puppy the right way.
Let's get started!
What do you need to bathe a puppy?
You'd need:
Puppy bathing shower
A tub, as per the size of your puppy
Luke-warm water
Puppy shampoo
Puppy hair conditioner
Puppy earbuds
A cotton towel
If it is the first time you brought a puppy to your house, you might need a checklist of other things that you need for puppy grooming.
Now, moving towards what we started – giving your puppy a bath.
How to bathe a puppy?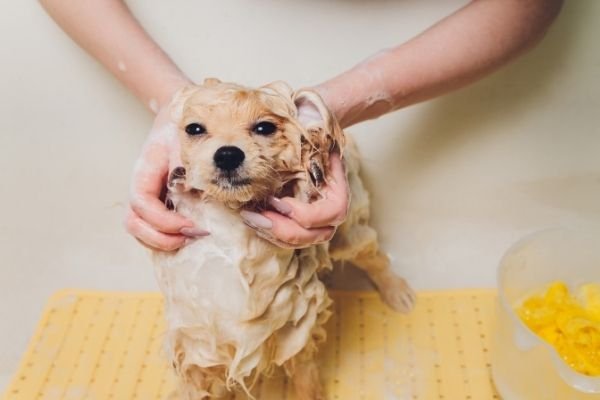 First things first, brush your puppy hair and remove all the mats. If avoided, it would become really hard for you to comb through the knots during the bathing phase.
Mats removed?
Start the puppy bathing now.
Pour the lukewarm water into the tub or use the puppy shower. If it is cold outside, change the temperature accordingly.
After 30 to 40 seconds, the pup will acclimatize and you can go about the rest of the bathing easily.
Take out the shampoo you need depending on the coat of your puppy.
Rub it on the hair to create a lather.
Spread the lather all over the body and gently scrub.
Now pour the water and wash off all the shampoo.
Repeat the procedure until the fur is clean. Usually shampooing two times is enough. It depends on the dirt the puppy has accumulated.
Remove the earbuds now and carefully clean your puppy's ears.
Take the towel and dry the hair.
Apply conditioner.
Give your puppy treats and praises.
And there you go. You are done—almost.
Now, blow-dry the hair and brush them. Your puppy is all clean and smells good.
Things to take care of when bathing a puppy?
Though washing a puppy is a fun activity, you should keep the following things in mind to avoid any trouble.
It's good if you hold your puppy's head in one place using one hand. Puppies are fidgety so they move a lot. But don't push the head hard.
Don't pour a mug full of water directly upon your buddy, or don't open the shower at full scale. Keep it gentle and steady so that your puppy won't try to escape.
Don't let the shampoo get into the puppy's ears or eyes. Make sure your puppy is not licking the shampoo —if it is, of course, it's a hazard for them.
Don't let the water get into your puppy's ear. It irritates them.
Don't haste while showering the puppy, be gentle.
Keep checking the temperature of the water. It shouldn't be too warm or too cold.
How often can you bathe your puppy?
Remember that too much shampooing can dry out the skin, making it itchy and creating dander. You can bathe your puppy whenever it gets dirty, and you can just avoid shampooing it every time. Consult your vet before making a proper routine. Your vet would tell you how often to bathe your puppy and which routine is suitable for your pup depending upon its breed.
However, generally following is the bathing routine adopted by the puppy owners.
Once a week for puppy age up to three months old if it plays too much and gets sweaty. Bathing it every week is also necessary so that when the puppy grows old, it doesn't have a bathing fright.
Once a month until your pup is six months old.
Twice a year or as necessary for old dogs that don't move much.
Hope you have learned how to bathe a puppy properly now. It's easy, right?
If you want to know more about all things pets, stay in the know with Dog Care and Feeding about your pet training, care, and wellbeing. Subscribe to our newsletter and be the first one to receive the latest updates, experts' advice, and pet parents' experiences with their buddies.