Cats age, and as responsible pet parents, it is our job to make the later phase of their lives as comfortable and enjoyable as possible. A critical part of such efforts involves providing appropriate feed for this stage of their life.
Naturally, parents of an aging pet would want to know about the best senior cat foods available and how to choose them. Considering that consumers are bombarded with gazillions of advertisements about the supposedly best cat foods, it can be hard to make the right choice.
Let us help you tackle both the most recommended products and how you should choose them.
Things to Consider Before Choosing Senior Cat Food
Before we go into detail about some of the best senior cat food options, you need to understand why they need a different diet in the first place. It involves issues relating to changing nutrient needs, problems like difficulty in chewing, digestion, and a loss of sense of taste.
When to Start Senior Cat Diet?
This is a bit tricky. The American Animal Hospital Association puts the bar at ten years of age to be declared a senior cat. But when the animal shows signs of aging, it depends on many other factors, including genetics, which simply means it could vary between breeds and even individual cats of the same breed.
Cat Stages of Life
Life Stage
Age (Years)
Kitten
Up to 1
Young Adult
1 – 6
Mature
7 – 10
Senior
> 10
Cat Stages of Life
The mature adult cats could show changing activity levels and shifting nutritional needs in their middle stage of life. And as they progress into their senior years, the change will be more pronounced. While pet parents can assess the mature and senior stages of life by keenly observing their kitty's routine, behaviors, and food intake, this is not something to be left on guesswork.
Since the life stages are arbitrary demarcations instead of collating with the age of the pet, you may have a 10-year-old kitty ascribed to the mature stage by the vet. Therefore, regular visits to the vet with observations about your pet's food intake, activity, and other schedules are the only way to identify when you should switch to senior cat food.
High-Quality Protein
Once you have figured out it is time to move to senior cat food, you need to understand the difference between the adult and senior variations of the feed. The nutrient requirements for kittens and adult cats required for both minimum maintenance and growth (possibly reproduction and lactation) are spelled out by the Association of American Feed Control Officials (AAFCO). As this kitten feeding chart outlines, kittens have a higher demand for nourishment than adults.
While not all experts agree on the precise dietary needs of a senior cat, they are convinced that the kitties could benefit from moderate supplies of high-quality protein. High-quality protein carries all the essential amino acids, including taurine.
This bit of advice is even more important in the context that many senior felines undergo weight loss as they age, owing to various factors, including difficulty in digestion. Therefore, the food offered must have an easily digestible nutrient mix. Irrespective of the age of your cat, if she has stomach issues, we recommend these cat food items suitable for sensitive stomachs.
Food for Weak Digestion & Chewing Ability
Cats undergo several physiological changes as they age. It includes difficulty in movement, problems in chewing and digestion, and a loss of senses of smell and taste.
Several of these issues can have negative implications on their food intake and ability to digest it. Some of the ways you could address these problems include;
Offer wet, canned food instead of dry kibble. This should be easier to eat and may help keep them hydrated.
Serve dry food moistened with water or pet bone broth to make it easier to chew.
Breeds susceptible to obesity may suffer worse during old age owing to a far more sedentary lifestyle. They should be fed low-calorie, high-quality protein diets to aid their weight control.
If your cat suffers from serious age-related issues, consult your veterinarian to suggest alterations in diet, supplements, or where applicable, prescription therapeutic diets to help it.
Nutrient Balance Suitable for Senior Cats
Cats need a complete and well-balanced diet at all stages of their lives. When the food is complete in terms of nutrients, it means that it has all the nutrients required for a cat. A balanced food, on the other hand, refers to a diet with the right proportions of all these nutrients.
So, a good place to start looking for excellent senior cat food is to review its label and see if it displays an AAFCO statement. It is a term for the nutrient analysis in dry weight and a prerequisite to operating as a pet food manufacturer.
Consult with your vet to identify the type of senior cat food that best suits your pet, and do some research before finalizing a product.
Smaller, Frequent Meals
While each pet is an individual and may have a degree of exclusivity in all respects, older cats generally suffer from an inability to sufficiently digest their food. A good way to deal with this problem is to offer smaller meals at frequent intervals.
This way, they will have enough time to digest the tiny portions and remain well-fed as well.
Vet Recommendation on the Senior Cat Diet
As cats age, vets recommend examinations every six months to help identify clinical issues before they become full-blown problems. Chances are, this way, both you and the veterinarian would be better prepared to help the kitty have a better quality of life.
Your vet would recommend a shift to the senior cat diet according to age, underlying health conditions, and the lifestyle changes needed for this stage of their life.
Best Senior Cat Foods
You now understand the stuff you need to consider before choosing the senior cat diet. Once you have the facts down about what your cat needs, it is likely that your vet will suggest some cat foods to you. Or you could do some of your research and come up with the products you feel would best suit your cat, thoroughly discuss all the options with the vet and make the final decision.
And this is where we come in. Here is our list of what we deem some of the best senior cat food available in the market.
Royal Canin is a respected, albeit pricey small pet food brand. Their Aging +12 Loaf in Sauce product is a wonderful mix of nourishing nutrients. Some of the most ardent fans of the product back up their claims of higher palatability for senior cats thanks to the ingredients, primarily chicken and meat by-products and glucosamine.
The product consistency also makes the eating process enjoyable, even for cats that find chewing difficult.
Royal Canin Aging 12+ Loaf In Sauce Canned Cat Food
Soft, palatable loaf and gravy food. It is enjoyed and preferred by cats for its taste and consistency.

Besides water, its first two ingredients comprise meat-sourced items, suggesting higher protein content.

It has a minimum of 8.5% crude protein, 2.5% crude fat, a maximum of 2.5% crude fiber, and 82% glucosamine (not designated as an essential nutrient by AAFCO but appreciated by cats).

It has the lowest phosphorus levels in commercially available pet foods, making it suitable for cats suffering from kidney issues.

Anecdotes from pet owners suggest that it makes up for its higher price when cats finish all of their food, wasting nothing.

The omega-3 fatty acids facilitate a better quality of life owing to their anti-inflammatory properties.
The product is comparatively pricey.    

The product is comparatively pricey.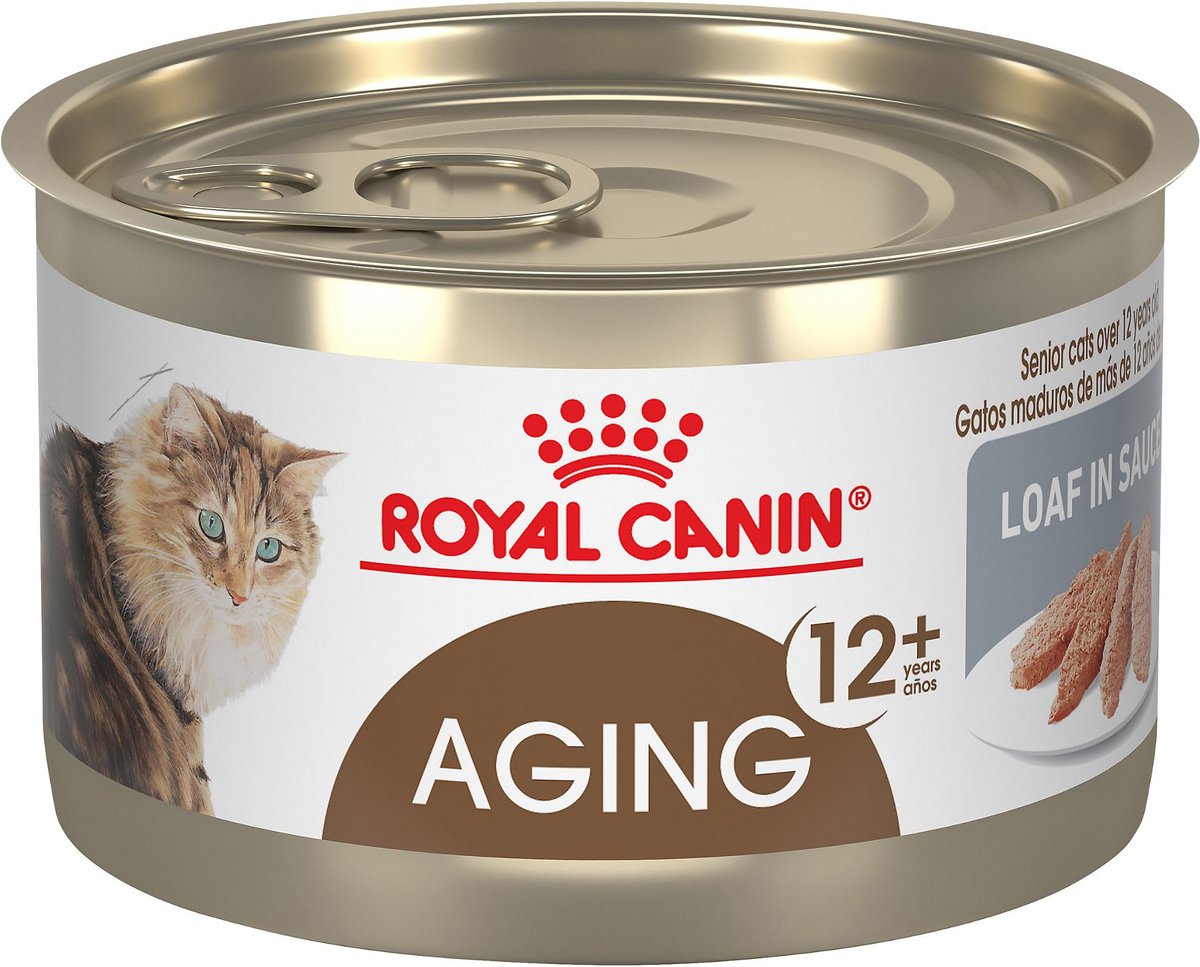 A respected name in the world of pet foods, Purina has a range of cat food products for various age groups. Making to our list is the Chicken and Beef Entrée for the 11+ individuals. The soft pate formation of the diet makes it ideal for older cats who find chewing troublesome otherwise.
The feed has high-quality protein sourced from chicken, meat, and fish. It is loaded with essential amino acids, including taurine, omega fatty acids, vitamins, and minerals.
Purina Pro Plan Adult 11+ Chicken and Beef Entrée
Smooth-textured, palatable, wet food—ideal for picky senior cats.

High-quality, easily digestible proteins and essential nutrients help improve the health and quality of life of the kitty.

Its nutrient profile consists of a minimum of 10% crude protein, 6% crude fat, and a maximum of 1.5% fiber.

The first six ingredients, excluding water, are meat-based, including chicken, liver, meat by-products, beef, ocean whitefish, and salmon.

Omega fatty acids are anti-inflammatory, protecting the cat from several pains; taurine improves neural communication and vision, whereas antioxidants improve its immune system.
This is another product on the pricier side.

Despite being labeled a chicken and beef entrée, it has fish in its ingredients, and it could be a cause of confusion for some buyers.

Not suitable for cats allergic or averse to fish meat.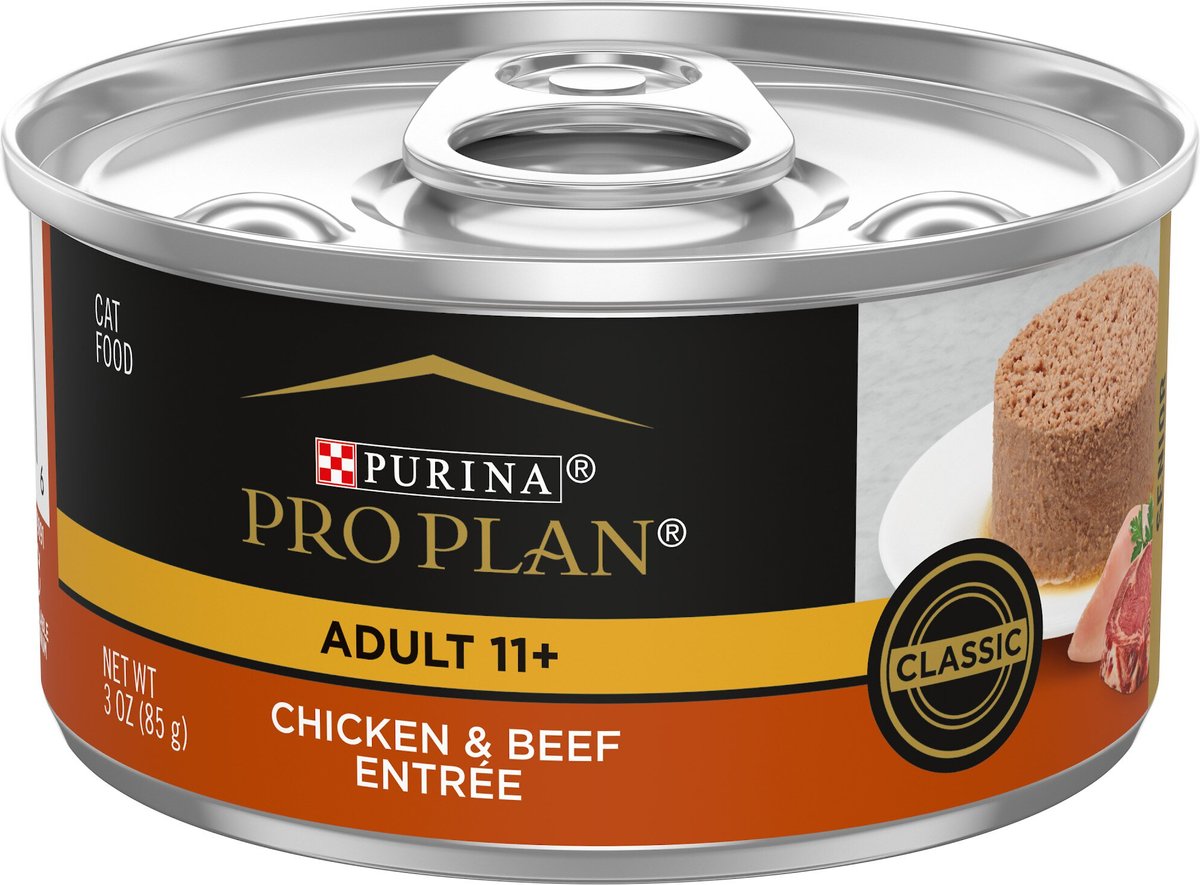 For those of you whose cats are more comfortable with dry food instead of wet food, here is an amazing option in the Hill Science senior cat product. Carefully crafted to suit felines 11 years and above, it is a small-size kibble to assist older kitties in satisfying their dietary needs.
The food comes in chicken and turkey varieties, where the manufacturers use chicken (or turkey) as the highest contributor. Since they refuse to use any meat by-products, other sources of protein include egg products and contributions from wheat, flaxseed, beetroot pulp, and some other fruits & vegetables.
Hills Science Plan Feline Senior 11+ Healthy Ageing
It is a nutritious and palatable concoction, appreciated by the senior cat population.

Chicken is the number one ingredient in this cat food, suggesting it has the highest contribution to the nutrient profile

Anecdotes from satisfied customers suggest that several picky eaters have favored this product and benefitted in the form of better health and coat appearance.

The cat food is supplemented with additional amino acids, including taurine, vitamins, and minerals, to create a healthy option for an aging cat.

It has 32.7% protein, 22.5% fat, 1.7% fiber, and 37% carbohydrate

Despite being a dry cat food, it makes for the texture by coming out in small kibble sizes to make chewing easy for senior pets.
Since it is dry kibble, it may need to be moistened with water or pet broth to facilitate chewing.

It does not seem to have as much variety in its meat sources. However, it does not have to be something to worry about.

Some cats may experience problems with the improved formula and need to switch to another food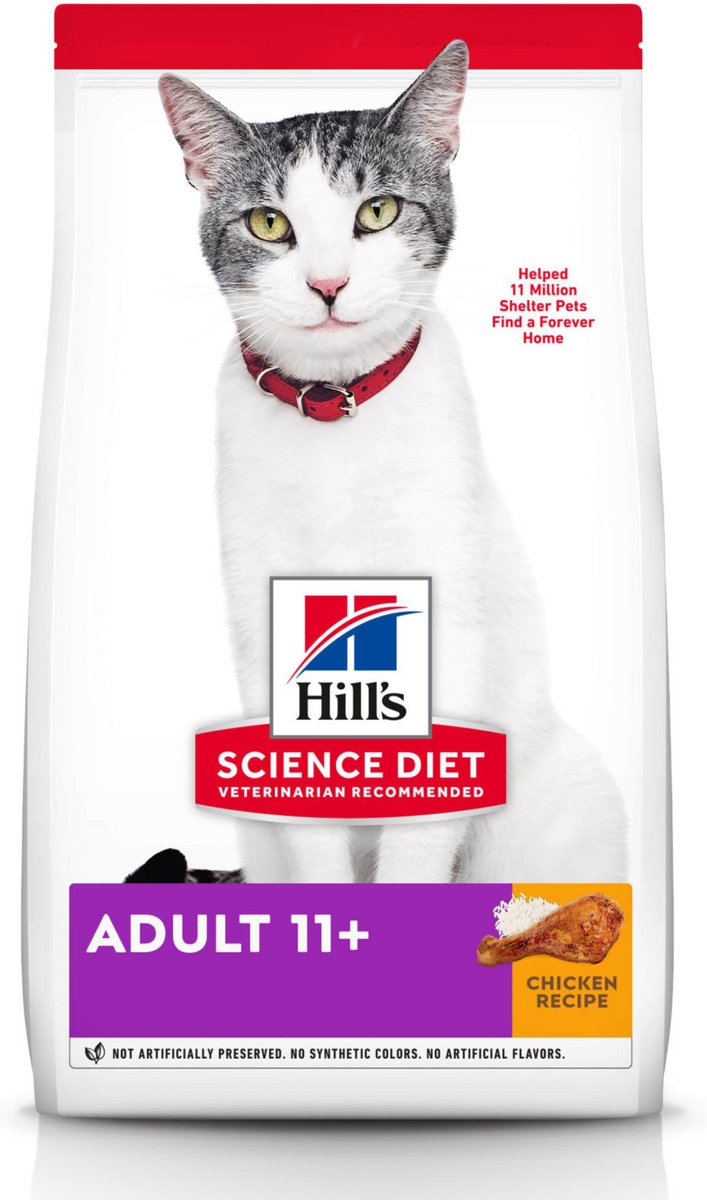 Here is a manufacturer that offers quality products for your older cat and is also serious about minimizing the environmental impacts of its operations. A dry kibble, Nulo Senior relies heavily on animal-sourced protein, a staggering 75%, to nourish senior cats.
Ingredients like Pollock, duck, and lentils take the lion's share in the protein mix besides borrowing from chicken, turkey, and salmon meals. The grain-free recipe is not just a treat to the cat's taste buds, but it is also topped with fibers and probiotics to assist your senior kitty in digesting the food.
Nulo Freestyle Grain-Free Cat Food
Healthy, delicious senior cat food fortified to increase nourishment.

78% of its protein comes from animal sources, making it high-quality and capable of meeting your senior cat's dietary needs.

It has 38% protein, 14% fat, and a maximum of 6% fat.

Loaded with vitamins, minerals, and mega fatty acids for better health, improved immunity, and better coat health.

Probiotics, fiber, and L-Carnitine promote smooth digestion and better stool.

Since it is dry food, it is comparatively more economical than canned food.
The food relies primarily on fish for its protein content. It could be troublesome for cats who do not appreciate the taste.

Since it is dry kibble, it may need moistening with water or pet broth for the senior cat to chew easily.
A trusted brand of reliable quality products, Wellness has an offering for senior cats in its Complete Health line. Determined to offer the best variety and wholesomeness in their products, the manufacturers draw from quality protein sources such as chicken, lentils, chicken & herring meal.
To facilitate gut health and better digestion among older cats, this product inculcates flaxseed and cranberries in its hearty formula.
Wellness Complete Health Grain Free Senior
Chicken is the number one ingredient in this product, indicating a good proportion of high-quality protein.

Anecdotal evidence indicates several cats appreciate the taste of this product.

The nutrient profile includes 39% protein, 11% fat, and a maximum of 5% fiber.

Vitamins, including vitamin E supplements and taurine, promote the health and agility of the senior cat.

The antioxidant and mineral fortification promote hip and joint health, keeping your kitty in good shape.
While carefully designed for senior cats, chewing dry kibble can be tricky for some older cats.

The formula indicates 1% phosphorus in the guaranteed analysis; it could be problematic for cats suffering from kidney issues.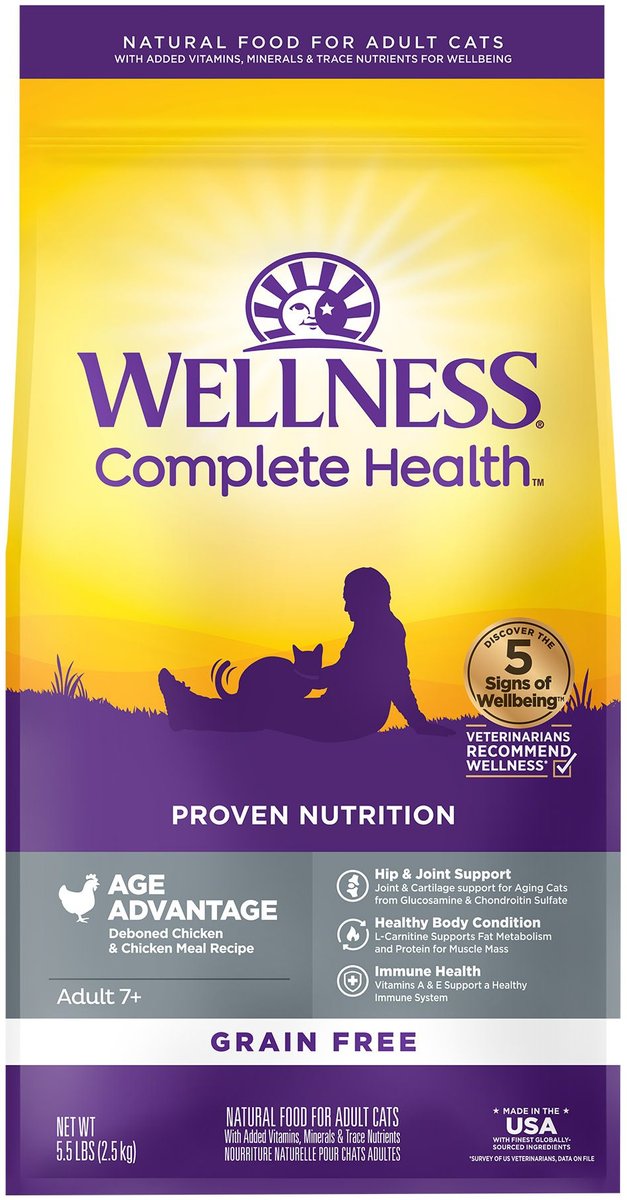 Key Take Aways
Purina Pro Plan 11+ Chicken & Beef Entrée is the best when it comes to wet cat foods. It has higher protein proteins, including fish, which may be exciting for cats. However, not a good choice for kitties allergic or averse to fish.
Hills Science Plan Feline Senior 11+ Healthy Ageing is the best option for dry kibble. We understand that the other options on our list boast of higher nutrient content, but we like the variety of quality protein sources in this product. Also, it has comparatively lesser phosphorus, something kitties with kidney problems would be thankful for, and a smaller kibble size makes it easy to chew.
Do the Research and Let the Cat Make the Call because no matter how great a product and how amazing the reviews are, the cat may reject it if it does not like it. We have stressed throughout that a vet should be involved in helping you choose the cat food, when to start the senior cat food, and take their opinion when things do not go well with the cat. It is a little bit of hit-and-trial until you agree on something both you and your cat approve of.